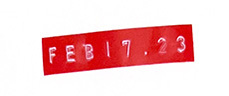 Letter to PWST students (State Higher Theater School) by Zbigniew Herbert*
"Warsaw, 12 January 1995
Dear Strangers!
We are quite a peculiar, small, quarrelsome cluster, without which splendid humanity can perfectly do.We are a hopeless minority, and what is worse, we usurp the right to raise anxiety. We want to force our neighbors to reflect on human fate, to the difficult love that we owe to great matters, including contempt for all those who persistently try to diminish a man and take away his dignity.
A wonderful, cruel and merciless life awaits you. Be at every moment, in every word spoken on the side of values, for beautiful craftsmanship, against trash, for the continuous effort of will and mind, against easy manners, for truth, against hypocrisy, lies, and violence. And don't be modern, for God's sake. Be honest. Grow in courage and modesty. May you be accompanied by faith in unattainable perfection and not leave anxiety and eternal torment that say that what we have achieved today is definitely not enough.
I wish you a difficult life, only such an artist is worthy. Good thoughts, greetings, and words of hope for you…"
* a Polish poet, essayist, drama writer and moralist.